Net Zero Home Label
to Recognize Homes that Produce as Much Energy as They Consume
Ottawa, May 2, 2017 – The Canadian Home Builders' Association (CHBA) today officially launched its Net Zero Home Labelling Program - continuing CHBA's long history in leading energy efficiency in residential construction. The Program provides the industry and consumers with a clearly defined and rigorous two-tiered technical requirement that recognizes Net Zero and Net Zero Ready Homes, and identifies the builders and renovators who provide them. A pilot version of the Net Zero Home Labelling Program ran from September 2015 to December 2016 to validate technical and administrative details.
"CHBA supports leading-edge innovation in the residential construction industry with the goal of having those innovations as a voluntary and affordable choice for consumers," said Kevin Lee, CEO. "The Net Zero Home Label will help to meet the energy efficient housing aspirations of Canadians, and renew Canadian industry leadership in high performance housing. CHBA members have always been leaders and innovators - this program continues that trend."


Net Zero training has been developed for CHBA members who want to be part of this exciting program. This training will help get the necessary knowledge into the hands of key stakeholders and accelerate the industry's capacity to achieve Net Zero.
A national network of CHBA Net Zero Qualified Service Organizations, Energy Advisors and Trainers will work directly with the builders and renovators to design, model, test and inspect each home.
"CHBA would like to thank all of our Net Zero Council members and industry stakeholders who participated in the development of the Program through the pilot phase. Your advice and leadership throughout the process helped shape Net Zero and the future of energy efficiency in housing." said Sonja Winkelmann, Director, Net Zero Energy Housing.
§  Builders and Renovators can learn more about the Program at www.chba.ca/nze.
§  Consumer information on the Program can be found at www.NetZeroHome.com.
§  Information on the Net Zero Council can be found at www.chba.ca/nzc.
- 30 -
A FULL SPECTRUM OF MARKET OFFERINGS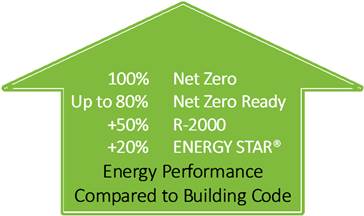 The CHBA supports a full spectrum of voluntary energy performance levels to provide Canadians with higher performing homes. These programs present a complete market offering that is applicable to custom and production homes, and renovations.
ABOUT THE CANADIAN HOME BUILDERS' ASSOCIATION
Since 1943, the Canadian Home Builders' Association has been "the voice of Canada's residential construction industry"—one of the most vital and enterprising industries in Canada. Representing more than 8,500 member firms across Canada, CHBA members represent every part of Canada's housing industry - home builders, renovators, land developers, trade contractors, product and material manufacturers, building product suppliers, lending institutions, insurance providers, service professionals and others.