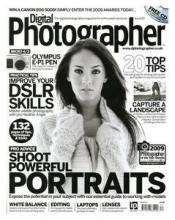 Digital Photographer Magazine 
September/October 2009 
Exclusive Environmental Landscape Feature
The Environmental Landscape Feature I have been eagerly waiting for has recently hit the stands around the world. I can safely say that I have gone global. In the September and October issue 2009 of Digital Photographer Magazine is featuring their " 12 Big Features " in their 12 page spread of a selected few environmental photographers. I am incredibly honored to be featured with Gary Braasch, whom I had a pleasure to meet last year at the World Eco-City Conference in San Francisco.  I received a two-page spread along with one of the best interviews I have had about my environmental photography work. I am very happy with the article, that is honestly stated and reflects my passion and beliefs. I have been working so hard for 10 years to be where I am today and this is truly an honor. I can't be happier with the outcome and results. I am so thankful for Digital Photographer for recognizing me as one of their top environmental photographers to be featured. I can't be more thankful and grateful for the acknowledgement and this incredible opportunity. You can pick up Digital Photographer Magazine at your local Barnes Noble, Borders and selected magazine stands that have a wide variety of magazines including international magazines.
Thank you for all your support !
Peace & Love,
Mona Miri
Mona Miri 
Sustainable Photography & Production 
www.monamiri.com
www.environmentalistjournal.com
monamiriphotography@mac.com
___________________________________________