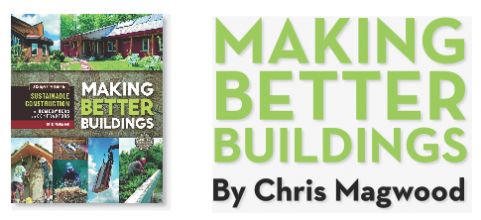 PETERBOROUGH, ONTARIO February 27, 2014 - Author Chris Magwood announces launch of new book, Making Better Buildings.
BOOK LAUNCH - Making Better Buildings.

LOCATIONS:
Toronto: Tuesday, March 18, 7pm, The Pit, Ryerson University, 325 Church Street
Peterborough: Thursday, March 20, 7pm, Camp Kawartha Environment Centre, Trent University, 2505 Pioneer Road
BOOK REVIEWS:
If you're drilling deep into sustainable building and want more than superficial details, let Chris Magwood be your guide. Making Better Buildings will help builders and homeowners quantify the green building process, and better understand the impact of their decisions.
---Scott Gibson, Green Building Advisor
Chris Magwood's new book is exciting news for builders and homeowners everywhere! This includes people who haven't even heard yet of the ideas that Chris lays out with such accessible knowledge and clarity. As one of the most knowledgeable and experienced ecological builders in North America, practicality and efficiency is one of his prime concerns. As one of the leading natural builders in the world, his affordable ideas are offered for all scales, within his broad and creative vision.
---Mark Lakeman, Design Lead at communitecture, architecture & planning. Co-Founder, The City Repair Project, Portland, Oregon
Based on Chris Magwood's considerable experience of sustainable buildings systems, this book provides invaluable guidance for builders, designers and those thinking of building their own home. Stripping away the hype, the book provides a rational and balanced assessment of alternative options for the major components of a building. It is particularly valuable since it includes a wide range of criteria such as cost, durability, code compliance and labour intensiveness together with environmental criteria, which make it a highly useful decision support tool for many sustainable building projects. Also, we are encouraged to get beyond the bickering about different systems at the "micro" level and to focus on the bigger picture, "macro" issues, when choosing building components and systems which will lead to significant change.
---Professor Mark Gorgolewski, Ryerson University
This book is an objective source of information on all aspects of home building from the foundation to the roof to the energy to the waste water systems. It's the ultimate guide on building energy-efficient, environmentally friendly, and healthy green homes—quite possibly the most valuable book ever published on green building!
---Dan Chiras, Ph.D., Director of The Evergreen Institute (
www.evergreeninstitute.org
) and author of The Natural House, The New Ecological Home, The Solar House and many more.
Chris Magwood is such a builder geek. How many times am I surrounded by builder geeks (old curmudgeons as well as young idealists) that argue about a technology's performance and how it stacks up against other technologies? Thank you Chris Magwood for writing "the ultimate argument settler". Now with a quick flip to a page, I can attempt to eliminate hours of debate.
---Emily Niehaus, Founding Director of Community Rebuilds
Making Better Buildings belongs in the library of every designer or builder in the green building business and should be read by every owner planning a new home. This is not simply green building - this is the future of construction! Chris has clearly described the pros and cons of the most viable natural building techniques and places them in context to create a tool that is timeless. 
---Jeff Ruppert, P.E. Structural and Civil Engineer, Publisher of The Last Straw Journal
At last: clarity! There are more and more people all over the world who are discovering the joy and satisfaction of building for themselves with natural materials. Very few, however, are also able to teach, communicate and inspire those around them. Of that precious few Chris Magwood is at the top of the list; his delight and mastery of the subject hums in every page. Whether you just want a broad overview, or access to high quality practical information on specific subjects, this is the book for you.
---Bruce King, Ecological Building Network

- - - - - - - - - - - - - - - - - - - -  
For further information or to arrange interviews, contact:
Chris Magwood
Director, Endeavour Centre