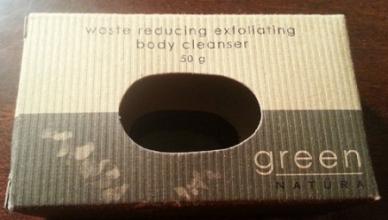 (Pictured: A bar of Green Natüra's "Waste Reducing Exfoliating Body Cleanser".)
During this Christmas, I have had the opportunity to stay at the Old Faithful Snow Lodge, located near the famed Old Faithful Geyser within the State of Wyoming. The Old Faithful Snow Lodge is part of the Xanterra Parks & Resorts group, an organization dedicated to preserving the natural resources and environment of the surrounding area through sustainable practices.
An individual upholding practices with environmental sustainability would have had a field day in terms of exploring sustainable practices in and around the Lodge. In accordance with the Xanterra-published "Sustainability Report", the organization has constructed the lodge from timber saved from previously demolished buildings, grew their food organically, and has ensured that solar energy powers the inn, just to name a few.
What struck me in particular is a little piece of hotel amenity, a bar of soap. Soap bars could be used longer than liquid soap, which gives soap bars an edge in terms of sustainability with regards to disposal. To put it this way, when a soap bar has been used beyond its hygienic service, what's left of the bar is, if used efficiently enough, nothing. With regards to liquid soap, one would be concerned as to how one could dispose of its container. Even if the container is recyclable, it nevertheless puts a stress upon the recycling process and the environment. As the old saying goes, "prevention is better than cure", with regards to bars of soap. 
However, the bar of said soap is not an ordinary bar of toiletry. It is Green Natüra "waste reducing exfoliating body cleanser" soap. As quoted from its packaging:
"This innovative ergonically shaped "waste reducing" soap has been designed to eliminate the unused center of traditional soap bars".
In other words, the central hole within this bar of soap allows for a much easier grip be it during taking a shower or washing ones hands. The bar of soap is sustainable because the manufacturing company, Green Natüra, has solved the core of the problem, no pun intended, by removing it. This lowers the manufacturing costs of the bar of soap, and thus its impact on the environment.
The "marriage" of sustainable and ergonomic processes with regards to the design of this bar of soap provides a more tangible, and thus more effective approach to sustainability - by contributing to the means of sustainability without actively thinking about sustainability at all. In other words, the participanting individuals, hotel guests, would be partaking in an act of sustainability just by using the bar of soap. Therefore, this form of sustainable production, marketing, and usage can appeal easily beyond the realms of active projects of sustainability.
Last but not least, we can manufacture our own soap, sans animal fat in order to minimize our environmental footprint. This would be the general solution to minimizing our footprint on the environment's resources, by not buying ready-made soap from your local convenient store or the supermarket. My parting message, and perhaps the most important solution of all, is: Why don't we take this sustainable solution a step further with our sustainable practices, by utilizing ring shaped moulds in the processes of making our own bars of soap?