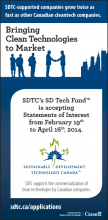 February 19, 2014 - Ottawa – Government of Canada and Sustainable Development Technology Canada (SDTC)
SDTC Looking for Canada's Next Cleantech Innovators
On behalf of the Government of Canada, SDTC is looking for the next wave of innovative cleantech entrepreneurs.  The SD Tech Fund™ is open for applications from February 19th to April 16th, 2014.
SDTC supports technologies that address the challenges of Clean Air, Soil, Water and Climate Change, including technology solutions focused on these current technology priority areas:
Responsible resource development: Mitigate environmental impacts associated with Canada's natural resource sector through technologies in the oil and gas, mining, and forestry sectors.
Next generation transportation: Technologies related to next generation vehicles having reduced emissions and higher energy efficiency, with a focus on freight transportation. 
Resource and energy efficiency: Technologies that encourage energy efficiency in buildings and industrial processes, with a focus on industrial water use efficiency.
Clean energy: Technologies that enable clean energy production, distributed power generation and energy storage as well as technologies related to carbon capture and storage, integrated energy systems, and biorefinery/biochemical production.
Agriculture: Technologies that increase yield and improve temperature and drought resistance of agricultural crops, mitigate land-use changes and biodiversity loss and diversify farm incomes.
Northern and remote communities: Innovative technologies and solutions for self-sufficiency in smaller communities, such as food security, heavy-lift transportation, small-scale renewable energy and microgrid applications.
Quick facts
On behalf of the Government of Canada, SDTC helps commercialize Canadian clean technologies, readying them for growth and export markets. 
Through its SD Tech Fund™, SDTC helps companies through the critical juncture when capital and scaling costs become challenges and the risk profile deters other investors.
The SDTC portfolio is currently comprised of 246 clean technology projects with a total value of $2.2 billion, of which over $1.6 billion is leveraged primarily from the private-sector. 
With a portfolio of companies under management valued at more than $2 billion, SDTC is positioning cleantech as a driver of jobs, productivity and economic prosperity.
Quotes
"Cleantech is the exiting nexus of making the most of economic opportunity and embracing environmental responsibility, providing Canadian industry with the tools needed to succeed domestically and globally. The SD Tech FundTM is key to supporting cleantech innovations, launching them onto the world stage where Canada can participate in the burgening cleantech market, valued at $1 trillion today."
Vicky Sharpe, President and CEO of SDTC
For more information, please contact:
Media Relations:
Patrice Breton
Director, Communications
Sustainable Development Technology Canada
Tel: 613.234-6313 ext. 295
Application Process:
John Adams
Vice President, Industry
Sustainable Development Technology Canada
Tel: 613.234-6313 ext. 234
19 février 2014 - Ottawa – Le gouvernement du Canada et Technologies du développement durable Canada (TDDC)
TDDC est à la recherche d'entreprises novatrices de technologies propres canadiennes
Au nom du gouvernement du Canada, TDDC est à la recherche d'une nouvelle vague d'entrepreneurs spécialisés dans les technologies propres. Le Fonds Technologies du DDMC recevra les demandes du 19 février au 16 avril 2014.
TDDC soutient les technologies qui s'attaquent aux problèmes liés à la pureté de l'air, à la salubrité des sols et à la propreté de l'eau, ainsi qu'aux défis que posent les changements climatiques, y compris les solutions technologiques axées sur ces domaines prioritaires en technologie :
Développement responsable des ressources : Atténuer les répercussions environnementales associées au secteur des ressources naturelles du Canada grâce aux technologies dans les secteurs du pétrole et du gaz, des mines et de la foresterie.
Transport de prochaine génération : Technologies de véhicules de la prochaine génération émettant moins d'émissions et possédant une efficacité énergétique plus élevée, en mettant l'accent sur le transport de marchandises.
Efficacité des ressources et de l'énergie : Technologies favorisant l'efficacité énergétique dans les immeubles et dans les procédés industriels, en se concentrant sur l'efficacité de la consommation industrielle de l'eau.
Énergie propre : Technologies permettant la production d'énergie, le transport de l'électricité et le stockage d'énergie propre, ainsi que les technologies liées au piégeage et au stockage du carbone, aux systèmes d'énergie intégrés et au raffinage de biocarburants ou à la production de produits biochimiques.
Agriculture : Technologies accroissant le rendement agricole, améliorant la résistance des cultures aux températures et à la sécheresse, atténuant les changements concernant l'aménagement du territoire et la perte de la biodiversité et diversifiant les revenus agricoles.
Communautés des régions éloignées et du Nord : Technologies et solutions novatrices assurant l'autosuffisance des petites collectivités, comme la sécurité alimentaire, le transport de charges lourdes, les applications d'énergie renouvelable à petite échelle et les réseaux électriques locaux.
Faits en bref
Au nom du gouvernement du Canada, TDDC contribue à la commercialisation, à la croissance et à l'accès aux marchés de l'exportation des technologies propres canadiennes. 
Grâce au Fonds Technologie du DDMC, TDDC soutient les entreprises à ce stade critique où les coûts d'investissements et de mise à l'échelle représentent des défis et où le profil de risque décourage d'autres investisseurs.
Le portefeuille de TDDC comprend actuellement 246 projets liés aux technologies propres d'une valeur totale de 2,2 milliards $, dont plus de 1,6 milliard $ provient principalement du secteur privé. 
Gérant un portefeuille d'entreprises d'une valeur de plus de deux milliards de dollars, TDDC présente les technologies propres comme un moteur de la création d'emplois, de la productivité et de la prospérité économique.
Citations
« Les technologies propres constituent un carrefour dynamique ou s'entrecroisent possibilités économiques et responsabilité environnementale, offrant ainsi à l'industrie canadienne les outils nécessaires pour réussir à l'échelle nationale et internationale. Le Fonds Technologies du DDMC est essentiel pour soutenir les technologies propres novatrices, puis les lancer sur la scène mondiale, où le Canada peut participer au florissant marché des technologies propres, évalué aujourd'hui à 1 billion $. »
Vicky Sharpe, présidente-directrice générale de TDDC
Pour obtenir de plus amples renseignements, veuillez communiquer avec :
Relations avec les médias :
Patrice Breton
Directeur, Communications
Technologies du développement durable Canada
Tél. : 613-234-6313, poste 295
Processus de demande :
John Adams
Vice-Président, Industrie
Technologies du développement durable Canada
Tél. : 613-234-6313, poste 234