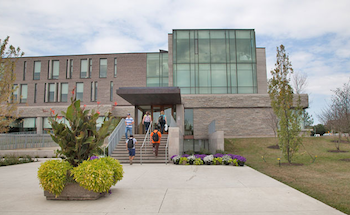 Media Advisory: Top social innovators explore the link between play and success
NEWS@IVEY | FEB 27, 2014 | PUBLIC AFFAIRS
LONDON, ON, Feb. 27, 2014 – Although Kelsey Ramsden, MBA '04, is a savvy moneymaker and was recently named Canada's Top Female Entrepreneur for the second year in a row by Profit Magazine, she credits her phenomenal success first and foremost to her ability to play.
Andrew Steele, EMBA '11, Vice President of Strategy at TVO, founding CEO of the Pecaut Centre for Social Impact, and former Senior Advisor to the Premier of Ontario, is hardly your off-the-shelf strategist. He is a turn-forward artist with a track record of championing positive impact in six different industries.
Celeena Sayani, HBA '12, one of the first Ivey students to graduate with Sustainability Certificate degree, is busy putting the social in intrapreneurship at LoyaltyOne.
Ramsden, Steele and Sayani are joined by more than 20 other leaders that dare to do business differently, and repeatedly accomplish what others can only dream of. Leaders like Ashley Good, whose Fail Forward venture earned gold twice, bringing home both the prestigious Harvard Business Review and the coveted McKinsey Innovating Innovation Award in 2013.
What do Canada's top social innovators have in common? One secret: they all harness the power of play to go way beyond business as usual. At the 5th Annual Social Innovation @ Ivey Forum on March 5 these leaders share how they bring play back into their organization to keep work engaging and energizing. They explain how play stimulates independent thinking, creativity, and confidence, and take us backstage to show us how they use play at work to transform everyday tasks into extraordinary impact.
Organized by Ivey' s Centre for Building Sustainable Value with financial support from RBC Foundation, community support from Pillar Non-Profit Network, and provincial outreach to Ontario's youth by the Natural Step, the half-day event features guest panels, live cases and workshops that reveal actionable links between play and success.
"Play is an invitation to engage more fully and meaningfully with our craft as leaders so we can make an even bigger contribution to society," said Ivey Associate Professor Oana Branzei, organizer of the forum. "Think of play as daily practice so that each and every one of us can stretch beyond our comfort zone and live up to a greater purpose."
Branzei said the event may finally give business a good name. 
"This event will feature Canada's top leaders in social innovation, many of whom are Ivey graduates," she added. "Ivey is one of the world's top business schools and a mecca for leadership, but many people don't know that our mission is to create leaders who contribute to society. This event is a homecoming celebration of the many Ivey leaders who already make a positive impact on the well-being of Canadians and an open invitation to all leaders out there to do even more."
EVENT DETAILS
Wednesday, March 5, 2014
Location: BMO Financial Group Auditorium, Ivey Business School
Media opportunities:
1 p.m.  – Presentation from Andrew Steele, Vice President Strategy at TVO, and Ashley Good, Founder and CEO of Fail Forward

2 p.m. – Panel sessions with social innovators
3:30 p.m. – Fail Forward, Venture Forward, and Play Forward workshops
5:15 p.m. – Presentation from Kelsey Ramsden, Founder of SparkPlay
About the Ivey Business School, Western University
The Ivey Business School (www.ivey.ca) at Western University is Canada's leading provider of relevant, innovative and comprehensive business education. Drawing on extensive research and business experience, Ivey faculty provide the best classroom experience, equipping graduates with the skills and capabilities they need to tackle the leadership challenges in today's complex business world. Ivey offers world-renowned undergraduate and graduate degree programs as well as Executive Development at campuses in London (Ontario), Toronto and Hong Kong.
MEDIA CONTACT: 
Ivan Langrish 
Senior Manager, Media Strategy 
416-203-0664