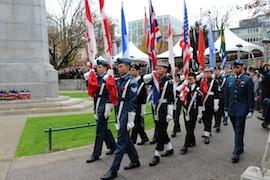 Care for our Veterans: by Jason Robinson
" I would likely not be here today,
if it was not for the Canadian and American armed forces,
because I'm Jewish and I would have been killed by Hitler "
Sobering remarks from one of a group of men who devote their Remembrance Day every year to the service of others. Gregory Crane, General Manager and Lead Designer for a few clothing brands has been volunteering to take mobility-challenged Veterans from their care home at Brock Fahrni to the Cenotaph at Victory Square since 1997. When asked why he keeps coming back after 19 years, Greg says; "Because I owe my existence and freedom in part to those men who served".
In all, 23 men volunteered to serve the Veterans this year; helping to get them dressed with weather appropriate clothing, navigate their wheelchairs for the day, ensuring they are warm, well fed, and enjoy the day with their mates. Going around the circle in preparation for the day, the men's team shared with each other their own personal circumstance and reason for choosing to be in-service to the Veterans on Remembrance Day.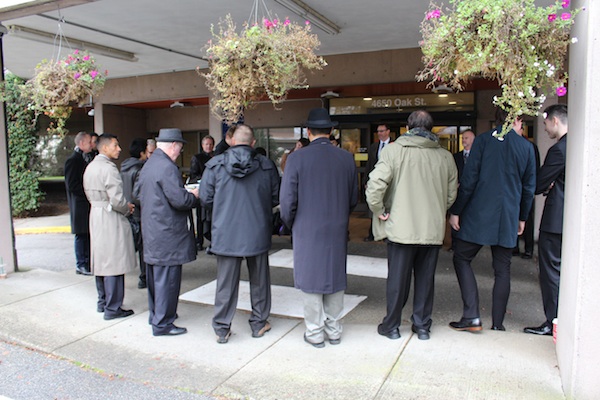 Being a part of this circle is a humbling experience, each and every time. Even after 15 years, it still has a profound impact on me. The honesty, something that we are not accustomed to in our western society, is difficult but necessary. One quickly realizes that each and every man has made caring for our Veterans a lifelong commitment. The inner conviction, now amplified by the collective voice, instills a deep sense of gratitude to those who have served our country and the ultimate cause of peace and justice. The experience this year reminding me of Martin Luther King's quote; "Injustice anywhere is a threat to justice everywhere". More than mere words, we are called to be proactive in our efforts to save ourselves from repeating the wrongs that have plagued our human history.
 
"Darkness cannot drive out darkness: only light can do that.
Hate cannot drive out hate: only love can do that."
                                                                                                                   - Martin Luther King
When standing at Victory Sqaure on 92nd Remembrance Day commemoration, I quietly contemplate the gravity of the sacrifice made in the name of war. I am heartended by the collective voice made visible with the presence of many community organizations1 and by the efforts of my fellow volunteers, the singing of the youth choir, and the emotional response I have every year to the sound of the bag pipes. (If like me you are moved by the sound of the bag pipes, I can recommend visiting both the Billy Bishop ,and the ANAF Unit 284 in Steveston for the annual visit by the Delta Police Pipe Band)
I am also heartened to see exciting new technologies being used to create positive, structurally oriented, wins for society. Exemplified by the work of people like Jim Fruchterman, CEO of Benetech Technology Serving Humanity epitomizes his company's benefit (light) to our society. In addition to creating such valuable services as reading books for the blind, Benetech also works to support communities in countries with oppressive regimes by backing up critial war crime evidence to countries like ours where information cannot be tampered with.
Most importantly this year I was struck by the interest of youth to be involved, and seeing them joining together to remember the past and be emotionally invested in the service of others. Grade 12 Student Kelsie Tham was shared her poem "Memories of Innocence" with ceremony attendees:
* * * *
Once I was like you.
Innocent with hopes, dreams and fears.
Today I hold the world on my shoulders.
I still have dreams, but too many were of comrades, taken from this earth.
I have stood over them, powerless to do anything.
* * * *
I continue to hope.
I look at the crumpled picture in my pocket,
and pray it's not the last I see my family.
I fear the war will never end.
I wonder if it's possible to be like you again.
* * * *
But, the war has made me unlike you.
I used to carry books in my hand.
Now, replaced with a weapon.
I used to wear shoes.
Now, I wear heavy, muddied boots.
In school, I held a pen and paper, copying words from the board.
Now pen and paper are the last things connecting me to you.
* * * *
I dreamt of being a hero, brave enough to represent my country.
I wanted to be like heroes in books and movies.
But I've come to realize that war is not as glorious.
* * * *
Death is like a shadow that follows me.
I still stand tall with pride for my country.
I've travelled, and only seen blood and loss.
However, I would not have taken a different path.
By Kelsie Tham
What does it take to create a memorable experience for our Veterans on Remembrance day?
Lots of pre-planning, and a group of ready and able volunteers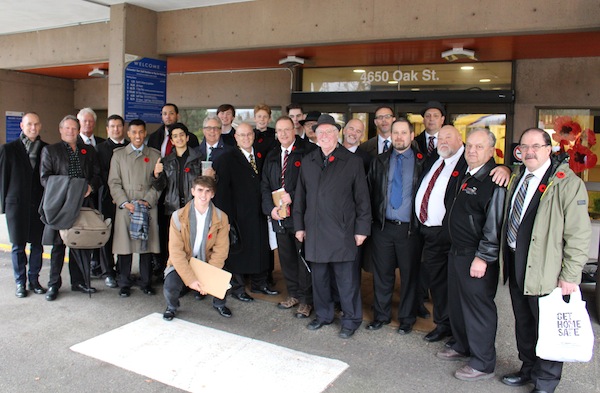 2016 Men's Team
Wheelchairs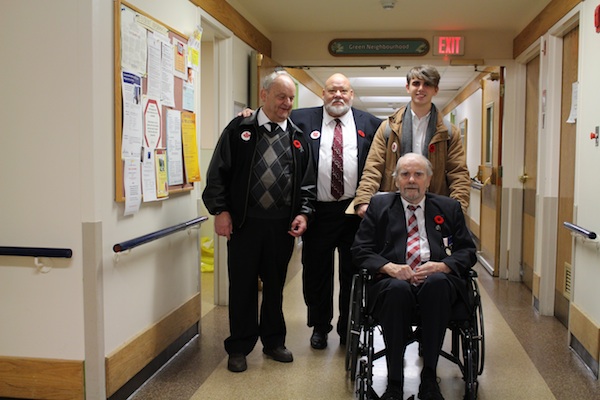 Ivan Lajeunesse, Henning Nielsen, ​Jamie Fajber Veteran: Tony Hodge
Organizational teamwork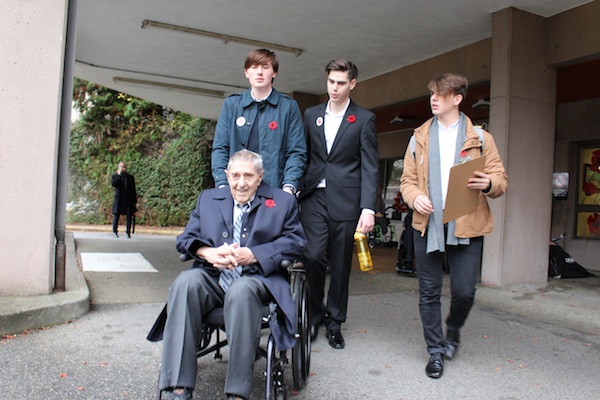 Veteran: Jack Mckelvie, Lyle Hendriks, Brock Hendriks, Jamie Fajber
The coordinated help of staff, volunteers, and the Handy Dart Drivers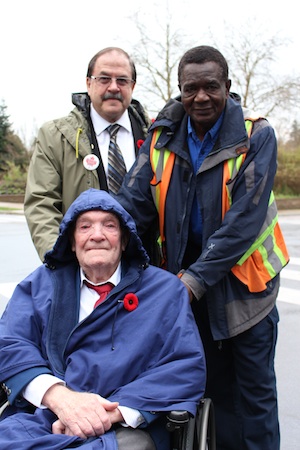 I caught up with well-known caregiver and Actor, Brian Leslie [pictured Left] and asked him what he leaarned from being involved with the Men's Team this year. Brian replied; "the thing that stood out for me this year was learning that a great first Nations Veteran [Louis Schmidt], with a great sense of humour, whom I have known for years, was born in a small village in Saskatchewan that I had worked at for a summer job in 1975. It was great to reminisce with him and meet his Daughters and see the love of their family.
Brian goes on to say; I keep coming back to honour my Father and Uncle who were involved in WW1 and WW2. I also feel it is the least I can do to give these remaining Veterans an important Day out on November 11th so they can pay respects to their fallen Comrades and share a drink or two with their remaining Pals.
It is an honour to be part of such a worthwhile group; getting to know the Veterans, the Men on the Service Team and their sons and young friends. 
Brian Leslie, Sid Elston, Handy Dart Driver 
Being on-time is important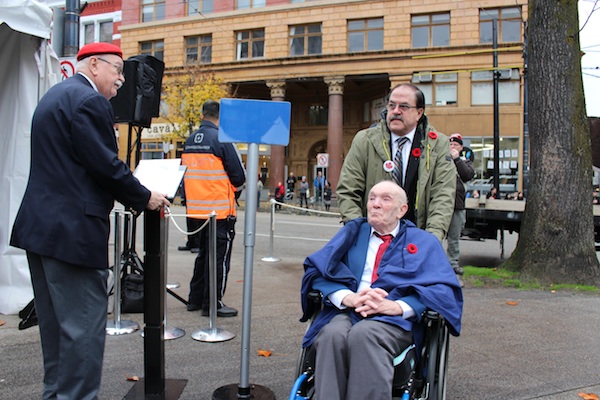 Brian Leslie, Sid Elston
Tents, Blankets, and a personal assistant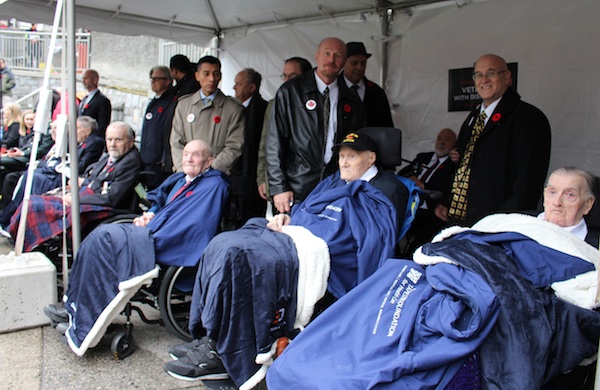 Veterans (from Left): Tony Hodge, Sid Elston, Howard Costain  Back row: Ramses Prado, Greg Crane
Men with a heart of gold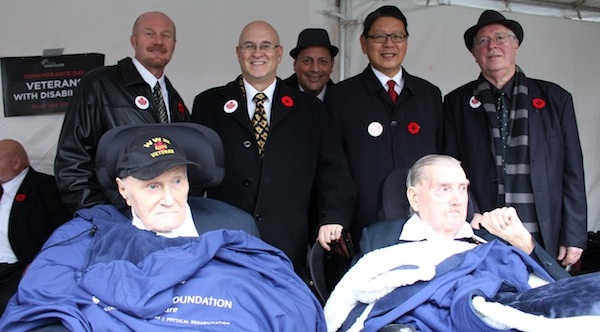 Veterans:  Howard Costain Back Row: Gregory Crane, Bruce Hendriks, Bob Sung, Ray Saunders
The support of local dignitaries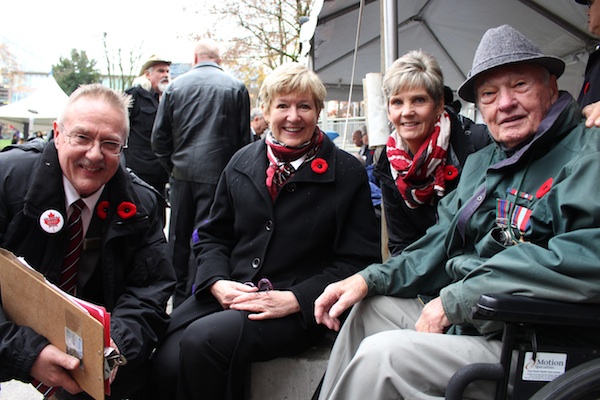 Tony Goering, Suzanne Anton, Karen Barry, Clifford Anton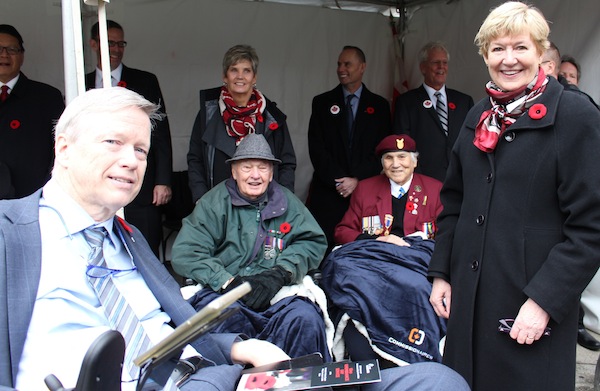 Sam Sullivan, Veteran: Clifford Anton, Veteran: Louis Schmidt, Suzanne Anton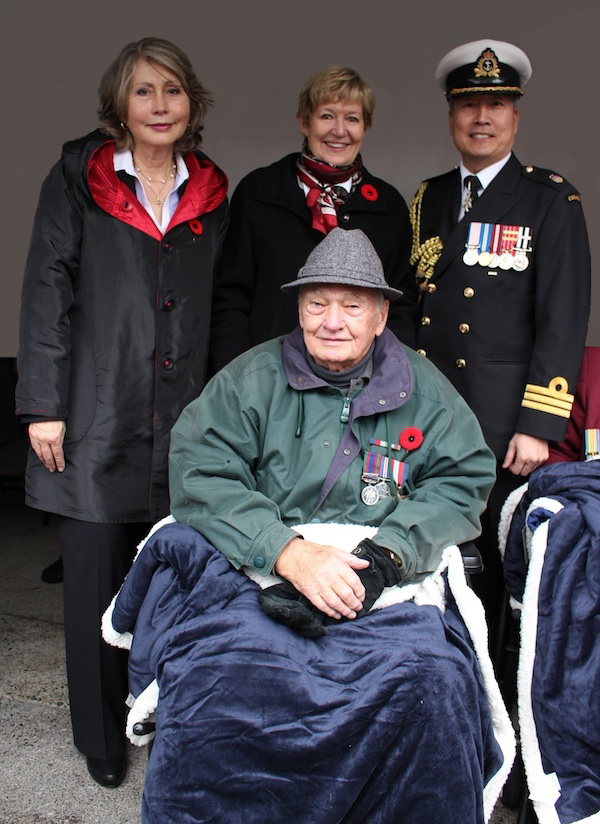 Lynne Platt, Suzanne Anton, Clifford Anton, 
See our interview with Veteran Clifford Anton: (to be added...)
A firm handshake from the Minister of National Defence

Harjit Sajjan, Brock Fahrni Veterans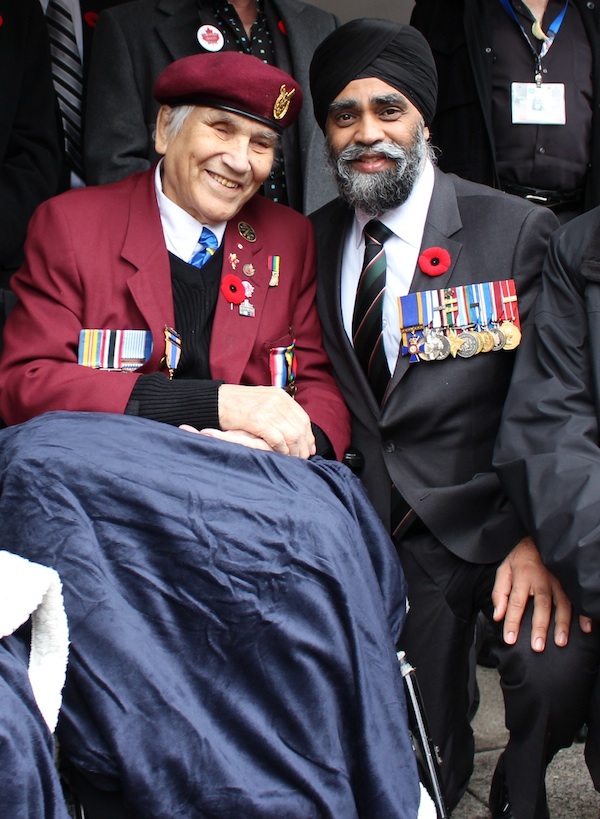 Veteran: Louis Schmindt, Harjit Sajjan
See our interview with aboriginal Veteran Louis Schmidt: (to be added...)
The Transfer of knowledge to the next generation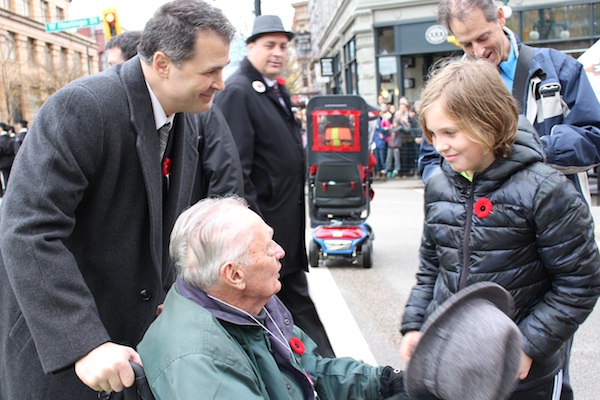 Jason Robinson, Veteran: Clifford Anton, Valen Tiernan 
And someone who cares enough to tell the story...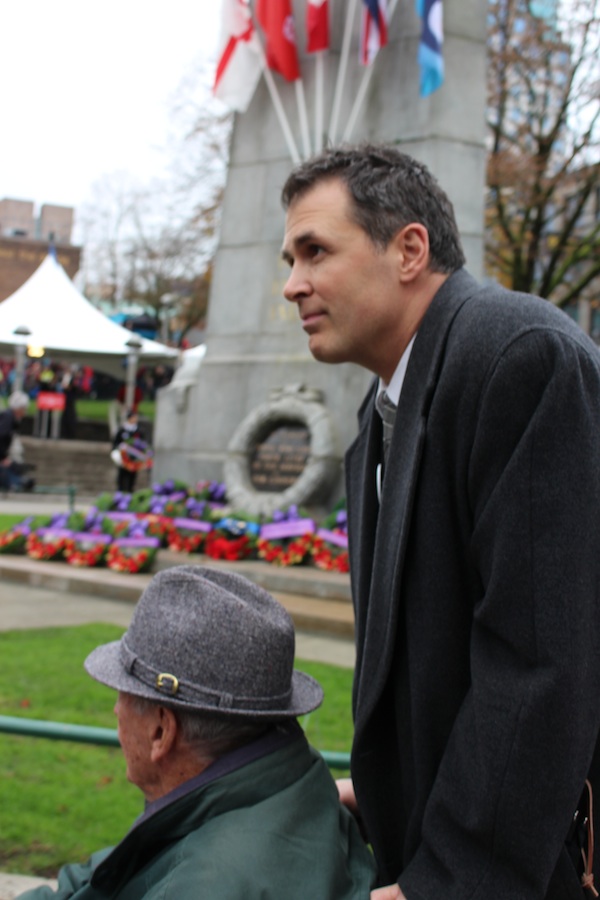 Veteran: Clifford Anton, Jason Robinson
I encourage everyone to consider starting a volunteer group like ours.
Ready to get a group started? Then please watch our video and read the how-to suggestions.
As long as there is one Veteran who needs my assistance - I will be there.
- - - - - - - - - - - - - - - - - - - - - - - - - - - - - - - - - - - - - - - - - - - - - - - - - - - - - - - - - - - - - - - - - - - - - - -
For more info please visit:
2010 Video and notes on "how-to" start your own Veterans service group:
https://www.sustainabilitytelevision....
2014 Remembrance Day with the Veterans Men's Service Team:
https://www.sustainabilitytelevision....
Please help us create more positive solution-oriented stories:
Become a Citizen Journalist with Sustainability Television:
https://www.sustainabilitytelevision....
Make a financial contribution to our efforts:
https://www.sustainabilitytelevision....
Follow / share our series on Social Media:
Facebook: Sustainability TV   Twitter: @STVNetwork @LWFSeries @JasonLRobinson
LinkedIn: http://ca.linkedin.com/pub/jason-robi...
- - - - - - - - - - - - - - - - - - - - - - - - - - - - - - - - - - - - - - - - - - - - - - - - - - - - - - - - - - - - - - - - - - - - - - -
1The Recognized Flag Party, Vancouver Naval Veterns Band, Naval Officers' Association, BC Regiment (DCO) Brass Band, BC Regiment (DCO) Association, Royal Canadian Legion, Burma Star Association, National Aboriginal Veterans Association.
The Seaforth Highlanders of Canada Pipes & Drums, Seaforth Association, Polish War Veterans Association of BC, Korean Marine Corps Veterans, Italian Veterans, Ukranian Veterans of Canada, Phillipine War Veterans of BC, Canadian Army Veterans Moro Unit, Vietnam Veterans of Canada, Freemason Veterans of BC-Yukon, 
HMCS Discovery, BC Regiment (DCO) Pipes & Drums, BC Regiment (DCO), Seaforth Highlanders of Canada Pipes & Drums, Seaforth Highlanders of Canada Pipes & Drums, Seaforth Highlanders of Canada, RCMP, CBSA, Sea - Army - Air Cadets, St. John Ambulance Cadets