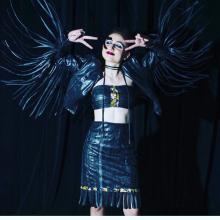 For the 8th year in a row, Recycled Runway in Boulder, Colorado, featured young designers who created fashion designs out of found and recycled materials to stunning effect. This is haute couture at its most sustainable. 
Cat litterbags, used Nespresso coffee pods, empty soda cans, and a plastic tablecloth from a birthday party long-past. These are just a sampling of the many found and discarded materials that enterprising designers in 6th through 12th grades used to assemble unique fashions for Recycled Runway 8, which was held April 18th at The Boulder Theater, just in time for Earth Day.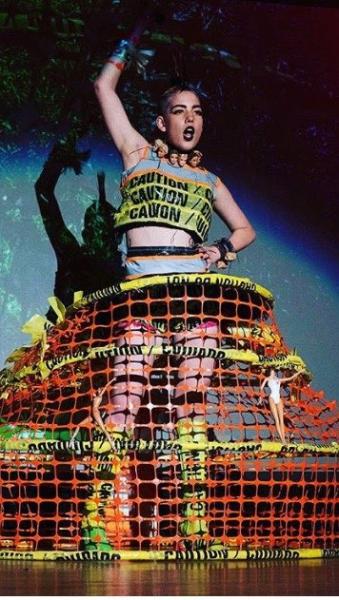 In front of a sold-out crowd, young designers strutted down the runway to groovy tunes, cheers from a wildly enthusiastic community, and the amazement of three esteemed judges. After months of hard work and plenty of material and constructional challenges, the resulting designs were breathtaking. 
 
Recycled Runway is a guided independent study workshop presented by The Common Threads Creative Lab in Boulder, Colorado for middle and high school students. The culminating competition and fashion show is feast for the eyes and the mind. Think of this as Project Runway meets your local EcoCycle or recycling organization. Through hard work and creativity, these young designers turn things like candy wrappers, tea bags, and discarded construction fencing into garments that rival those seen on the catwalks in Paris and New York during Fashion Week, only a bit more trashy, in the best sense possible.
 
This year's Recycled Runway was unique as it marked an inaugural collaboration with the University of Colorado Boulder (CU Boulder). Associate Professor Max Boykoff from the Environmental Studies program and Associate Professor Beth Osnes from the Department of Theatre and Dance have combined forces to teach undergraduates a Creative Climate Communications class. One of their teaching objectives with this class was to have students engage with various dimensions and issues associated with climate, environment, and sustainability. In pursuit of this objective, Boykoff's and Osnes' students each shadowed one of the young Recycled Runway designers, interviewed them, and documented their work to result in a resonant short film and presentation. "We were prompted to engage in this collaboration because Recycled Runway has clearly been a treasure in Boulder over the past eight years, empowering young adults through these connections between design and consumer waste. Connecting students from the Creative Climate Communications class with RR8 designers helps everyone involved to better understand varying perspectives and motivations that bring them together to creative and multi-modal expressions of climate change and the environment," says Boykoff.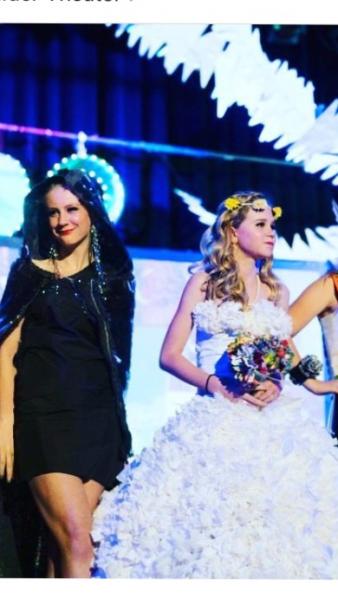 Finally, in recognition of the tremendous Boulder community, the net profit generated from Recycled Runway this year was given to local nonprofit Attention Homes, an organization that provides life-changing resources for homeless young people aged 12-24 in crisis.
In short, Recycled Runway truly brings the whole community together in pursuit of a greater good for the planet and its people. 
 
You can see photos from Recycled Runway 8 at @recycledrunwayboulder on both Facebook and Instagram. #recycledrunway8 can also be searched on social media outlets for a wider cast on activity from the evening.