Video Description: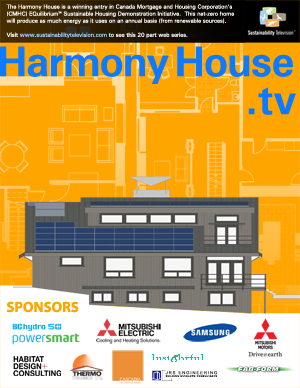 Sustainability Television is proud to present this 20 part episodic series highlighting the construction of the Harmony House.
Located in Burnaby, BC, Canada; the Harmony House is a winning entry in the Canada Mortgage and Housing Corporation EQuilibrium™ Housing Initiative.  This net-zero home will produce as much energy as it uses on an annual basis - from renewable sources.
This project incorporates low toxicity interior finishes, materials with recycled content, foam insulations using non ozone depleting expanding agents, water conservation and rain water harvesting. These measures lower environmental impact, conserve resources and create a healthy indoor environment for the occupants.  This is the only Equilibrium home to be constructed on the West Coast and will be the first zero carbon building in British Columbia; meaning it will emit no greenhouse gases from heating, cooling, hot water and the use of electrical appliances.
GREEN SUSTAINABLE BUILDING SUPPLIERS & PRODUCT SPONSORS:
Ever wonder what is a eco home?  The Harmony House series gives you a glimpse at just what it takes to build a green building.  Designer Chris Mattock has been building sustainable housing for over 30 years.  Check out this series for many tips on where to find a home builder in your neighborhood who knows all about custom homes and building a green building.  
If you're looking for more information on the materials for construction of a green building; watch all 20 episodes to get specific tips and ideas to discuss with your architect and builder.
For in depth information on suppliers, team members and green sustainable sponsors visit: harmony-house.ca
SELECTED NEWS COVERAGE:
http://www.cbc.ca/video/#/News/Canada/BC/1258521056/ID=2184354360
http://video.citytv.com/video/detail/1539017111001.000000/dawns-visits-harmony-house-in-preparation-for-earth-hour/
http://www.burnabynow.com/Burnaby+honours+environmental+stars/6749886/st...
https://www.bchydro.com/news/conservation/2012/harmony_house_profile.html
http://www.burnabynewsleader.com/news/138142673.html
http://yonahmartin.sencanada.ca/p100955/resources/media/Burnaby%20CMHC%2...
https://aibcenews.wordpress.com/2011/06/17/harmony-house-tours-burnaby/
http://www.cmhc.ca/en/corp/nero/nere/2011/2011-12-19-1300.cfm
http://www.bcsea.org/blog/laura-packham/2012/03/14/climate-change-%E2%80...
http://www.cagbc.org/CAGBC/Chapters/Alberta/2015GHS/Thomas%20Green%20CMH...
INDUSTRY TOURS:
To schedule an industry tour for your group or 25 or more please visit harmony-house.ca.
FOLLOW US:
https://twitter.com/HarmonyHouseTV
Harmony House.TV - Episode Synopsis
Episode (1)
"The Harmony House Project" – History of the project and key participants
(Chris Mattock, Arthur Lo, Bob Douglas, Kristi Choi, Kari Reid, Gary Hamer, Les Moncrieff, Linda Moncrieff)
Episode (2)
"What is a Green Building" – Overview of green building rating systems.
(Les Moncrieff, Linda Moncrieff, Arthur Lo, Chris Mattock, Jason McLennan, Linda van der Velden, Ken Melamed, Bob Deeks, Phil Legg, Coro Strandberg, Bob Douglas)
Whistler, BC, RDC Fine Homes, Durfeld Constructors, Paperstone(mentioned), SIPS Panels
Episode (3)
"The House as a System" – Interdependence of building materials
(Bob Douglas, Les Moncrieff, Linda Moncrieff, Kari Reid, Dale Parkes, Patsy Bourassa, Clay Ganton, Caroline Ganton, Haley Ganton,
TED 5000, TRU, CHBACI, CMHC
Episode (4)
"The Excavation" – Elements in the Foundation
(Arthur Lo, Robert Lea, Bob Douglas, Winston/Harry, Joey Fearn, Gary Hamer, Cyril Parker)
J&R Excavation, Fab-Form, Quad-Lock
Episode (5)
"The Substructure" – Creation of the Foundation
(Bob Douglas, Kristi Choi, Manny, Chris Mattock, Joey Fearn, Gerald James, Cory Legge,  Cyril Parker, Winston, Dave Andre, Kimi Ito, Linda van der Velden, Shawn, Tyler Holley)
FastFoot Monopour System, Quad-Lock, Soprema (Mentioned), JRS Engineering, K Ito & Associates, J&R Excavation
Episode (6)
"Superstructure 1" – The Engineering
Scott Croasdale, Cory Legge, Dave Andre, Gary Hamer, Andrew Shaw, Robert Clement, Bob Douglas, George Pinch, David Hill
JRS Engineering, WUFI, GVHBA – Technical Committee
Episode (7)
"Superstructure 2" – Advanced Framing & Roofing with Engineered wood
Arthur Lo, Kimi Ito, Kristi Choi, Chris Mattock, Kari Reid, Harry Xu, Arthur Lo, Jay Batch, WUFI, Dicks Lumber, Eagle West Cranes
Episode (8)
"Superstructure 3" – 
Bob Douglas, Cory Legge, Chris Mattock, Gary Hamer, Darren
JRS Engineering, Dow (products), DuPont (products) , Crown Roofing
Episode (9)
"The Building Envelope" – Windows and Doors
Michael Bousfield, Mike Battistel, Kristi Choi, Kari Reid, Arthur Lo,
Cascadia Windows, Inline Fibreglass(mentioned)
Episode (10)
"The Building envelope 2" – Air Barriers
Chris Mattock,Winston, Bob Douglas, Les Moncrieff, Walter Wardrop, Gary Hamer, David Hill
Dow (thermax mentioned), Panasonic (VIP's mentioned), Icynene (mentioned), Eneready Products
Episode (11)
"The BCIT AFRESH House" – Sustainable Elements in BCIT AFRESH House
Alex Hebert, Kristi Choi, Linda van der Velden
BCIT
Episode (12) 
"Natural Ventilation" – The Aero-Cap
Chris Mattock, Cory Legge, Gary Hamer, Brian Hayashi, Bob Douglas, Phil Griffith,
Matrix Design
Episode (13)
"Space & Water heating" – How to heat a home without gas
Les Moncrieff, Bob Douglas, Gary Hamer, Cody, Richard Parkinson
Mitsubishi Electric, Stoltz Mechanical
Episode (14)
"The Power of the Sun – Solar hot water and PV array installation
Kristi Choi, Matt Hutchings, Owen Low, Gary Hamer, Rob Lafreniere, Paul Sim
SMA, Energy Alternatives, Clear Energy Solutions, Liquidus Plumbing, Sunbright Solar, ThermoDynamics
Episode (15) 
"Energy Conservation" – Culture of Conservation
Gary Hamer, Bob Douglas, Lisa Coltart, Victoria Smith, Kari Reid, Norm Brault,
BC Hydro
Episode (16) 
"The Net-Zero Energy Family" – Smart Meters and Electric Cars
Kristi Choi, Gary Hamer, Mark Phillips, Guy Hartwig,
BC Hydro, Corix, Mitsubishi Motors
Episode (17)
"Lighting & Energy use" – Echoflex Solutions and related technology.
Bob Douglas, Shawn Pedersen, Ted Prime, Linda van der Velden, Tracy Douglas, Pamela, Arthur Lo, Dan Butler,
Echoflex Solutions, Canlyte-Philips(mention), BC Hydro Smart Meter
Episode (18)
"Interior Design Elements" – Samsung and other appliances and finishings
Arthur Lo, Tracy Douglas, Les Moncrieff, Linda Moncrieff, Bob Douglas, Kari Reid, Qian Yi
Interstyle, Canlyte-Philips(mentioned), Kohler(mentioned), Benjamin Moore (mentioned), Samsung
Episode (19) 
Exterior Finishes" – What it takes to make a Net Zero Home
Arthur Lo, Miles Timmis, Oscar, Gary Hamer, Kristi Choi, Yuki, Sam Dawson
OEL Painting, Disposal King, Premier Plastics
Episode (20)
"The Electric Car" – Living in a Net-Zero Home
Chris Mattock, Loreto Persichetti, Shawn Bryan, Linda van der Velden, Kristi Choi, Les Moncrieff, Linda Moncrieff,
Misubishi Motors, Eaton
DISCLAIMER:
The Harmony House, the content of harmony-house.ca web site, and the associated videos produced by Sustainability Television Inc. are for informational purposes only and the material they contain should not be used for specific construction purposes without advice from a qualified design professional.
The design elements presented in this video series and on harmony-house.ca were developed for specific local climatic and site conditions, client requirements and to comply with local and national codes and standards.
When constructing any home, particularly a net zero energy home, the services of a knowledgeable qualified design professional should be used.
That design professional must be familiar with local building code requirements, local climatic conditions, the particular site conditions, the principles of building science and state of the art energy efficient design.
All of the information contained in this video ("video") is provided by persons and companies, named and unnamed, including Sustainability Television Inc., the BC Hydro and Power Authority, and Mitsubishi Electric Sales of Canada (collectively, the "Parties"), for entertainment and informational purposes only and does not in any way constitute advice or recommendations relating to the use of the suppliers, products, techniques, designs, or methodologies described or shown in this video.
As work sites, climate conditions, product interactions, and building codes vary greatly in different jurisdictions, to the maximum extent permitted by law the Parties expressly disclaim all representations, warranties and conditions (express, implied, or statutory) including those regarding merchantability,  fitness for a particular purpose, operation, functionality, durability and non-infringement, relating to the products, techniques, designs or methodologies described or shown in this video.
To the maximum extent permitted by law, in no event shall the Parties, or any of their respective affiliates, directors, officers, agents, contractors, employees or licensors, be liable for any injury or damages, including direct, special, incidental, indirect, consequential, punitive or exemplary damages (including damages for loss of revenue, loss of profits, failure to realize expected savings, interruption of activities, or any other pecuniary or economic loss), arising out of the use or inability to use any product, technique, design, methodology or service described or shown in this video, whether in negligence or otherwise, even if the Parties have been advised of the possibility of such damages.
The views and statements expressed in this video do not necessarily reflect the views of the Parties, nor does any of the Parties warrant the accuracy, reliability, currency or completeness of those views or statements. The Parties do not accept any legal liability whatsoever arising from any reliance on the views, statements and subject matter of this video.
The Parties encourage all viewers to seek appropriate qualified professional design, building, and construction advice with respect to their own particular circumstances before making any home design, construction and or renovation decisions.