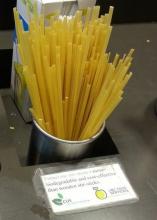 While lining up to buy myself a latte before class, I caught sight of a rather unusual batch of stir sticks made of fettuccine. Without hesitation, I took out my smartphone and snapped a quick picture of it for this blog. The description states that fettuccine stir sticks are "more biodegradable and cost-effective than wooden stir-sticks".
Developed by the CUS (Commerce Undergraduate Society) Sustainability department and UBC Food Services, I can immediately see the merits of this simple yet effective solution.  Not only are they inexpensive, and sustainable, but their applicability extends to a wide variety of food and drinks establishments. The ubiquitously economical coffee shop is a stones throw away in your neighbourhood, and could easily take advantage of this environmentally alternative solution just as easily as a fancy restaurant in Downtown Vancouver.
I see three more potential benefits in using stir sticks made of fettuccine than wood or plastic. Firstly, in addition to fettuccine stir sticks being more biodegradable, it is also edible, albeit raw. Secondly, given the still staggering amount of food that is thrown into the compost bins at the end of service, this alternative adaptation makes sure additional food does not go to waste. Thirdly, these fettuccine stir sticks provide an aesthetic difference from conventional wooden stir-sticks, which means these will be more noticeable and may be more favourably received. After all, wooden and plastic stir sticks still dominate the cutlery department of coffee shops and restaurants and with the advent of "fettuccine" the others could soon be passe.
Fettuccine stir sticks for your coffee...Hmm, I wonder what UBC Food Services will come up with next? Could Bucatini, a type of pasta resembling hollowed spaghetti, have potential as an alternative drinking straws?
As a starving student, I'm excited to see what new utensils may be available to help supplement my dietary needs!